Marking of the Days - Introduction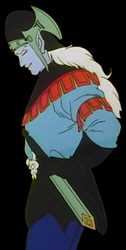 A brief explanation
The Marking of the Days is an ongoing work of fiction (). It is based upon the animated series "Voltron", whose characters are the property of "WEP" with characters adapted from other works by the author. All other characters created here are the property of Lotor.com. Kindly do not reprint or distribute without permission, please.
Artistic License
Hello, curious humans. The Marking of the Days is an accounting of a subject less often touched upon—The life and culture of our far reaching Empire in the Western Arm of the galaxy. It centers around the times of our King and Emperor whose life has been much followed by our peoples and many others over the years and begins with the death of his father, the former King and Emperor. The tales contained herein are not intended for young humans as they often contain matters of war and other such rather mature themes. We hope that you will find the reading enjoyable and educational both.

Hanta Sansol
Royal Attendant & Advisor
Master Teacher - Ethics / Protocol / Language
Namida Academy, Satnatari Prefecture, Forth
#232 Office Complex Akol
Current chapters in order
Updates
Started adding the updates log here in 2004 to keep watch on when updates have occurred.